Archives d'actus Novembre 2007
Sorgues 2008
Le 3ème salon de Sorgues se tiendra les 2 et 3 février 2008.
Plus d'infos ici: link flipsud.fr/ ...

L'affiche:


RomCenter 3.00 alpha 7 dispo
SITE OFFICIEL: link romcenter.com/ ...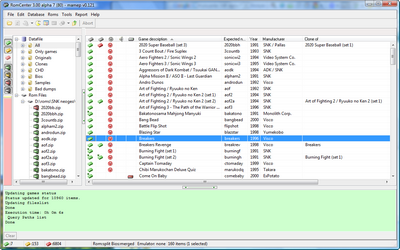 New
- Split listview 'rom' column in 'main' and 'merge' columns
- Device and database icons in treeview
- New buttons in datafile wizard
- Add more progress info in log for long operations in DB
- Icons in treeview
- Device insert/remove detection
- Change some tools location
- Added bios icons in treeview
Fix
- Fix captions in file menu.
- Fix problems when updating DB version
- String truncation when loading path with long device name
- Empty CHD folder not handled correctly
- Refresh path always remove and add chd folders
- CHD outside of a folder are not displayed correctly
- "file not found" when importing missing chd in a folder
- Crash when creating chd dummies
- Empty folder sometime not added when adding a path
- CHD folders not updated after fixing the whole path
- Wrong CHD folder status displayed after mode changing (split)
- Empty folder not correctly loaded the first time
- Merged roms with identical name but different crc are deleted in split mode
- Can't create empty folder to move CHD
- Random illegal access error in riched20.dll
du frais ...
BEST OF BEST

Fighter / Versus - 1994 - MAME 0.121 -
... encore un jeu de combat mode versus du milieu des années 90...
BLOOD WARRIOR

Fighter / Versus - 1994 - MAME 0.113 -
Jeu de combat versus avec des personnages digitalisés, dans la lignée d'un Mortal Kombat...
datObase 0.121
Alors que la permière unstable 0.121u1 vient de paraître, je viens de mettre à jour la datObase avec toutes les infos relatives à MAME 0.121


Question nouveux jeux jouables, c'est surtout les amateurs de casino, quiz et autres majhonggs qui trouveront matière. Toutes les infos dans la --> datObase !!!
roms à jour
Le set MAME 0.121 a été ajouté dans arcadeHITS.

La liste des roms présentées dans le site qui ont été modifiées n'est pas très grande, je n'ai pas vraiment testé tout cela, voici le résultat d'un grand coup de clrMAMEpro


--> index.php?s 0.121 - p chercherom
Downloads 0.121
Si vous êtes passé récemment dans la page "membre" vous avez vu les derniers téléchargements ajoutés, relatifs à MAME 0.121

Tous les ténors sont à jour, excepté MAMEplus...

* MAME32 devient MAMEUI... Pourquoi ?
Les site propose également une version "64"(bits) pour windows (XP64 ou Vista64)...
arcadeHITS continue de proposer la version "32" qui convient à la plupart des utilisateurs.
Ceux qui tournent sur un Windows 64bits trouveront la version "64" sur le site officiel
http://mameui.classicgaming.gamespy.com/

* Dans la foulée, MAME32FX utilisant MAMEUI devient donc MAMEUI32FX


* WOLFMAME (windows) est wolfSDLmame (linux) sont disponibles, avis aux MAMESCOREURS.

* et bien sûr la version officielle. Pour info, le site mame.net pointe maintenant vers mamedev.org, qui devient donc site officiel et non seulement site des développeurs...

Tous les "MAME" à jour: --> ressources


Les principaux add-ons sont à jour: --> ressources

A très bientôt pour la suite
MAME v0.121
Et une de plus!!!!



MAMETesters Bugs Fixed

dunhuang0120u3gra [Vas Crabb]

Source Changes

Updated DIP locations in the following drivers: [Vas Crabb]

- bublbobl.c: bublbobl, tokio
- cps1.c: all games
- dunhuang.c: dunhuang
- mario.c: marked all as active high (confirmed from manuals)
- segag80r.c: astrob2, astrob1, spaceod and pignewt
- segag80v.c: all games, fixed switch ordering

Made more functions static to reduce namespace pollution.

[Atari Ace]

Improvements to the Touchmaster driver, still labelled not working.

You can actually play tm and tm3k, but sometimes you have to reset

because they stop registering the touchscreen input. tm4k is

protected and hence totally unplayable. [Luca Elia]


Fixed compilation problems with altivec accelerators. [Vas Crabb]

Fixed bug in Voodoo statistics accumulation. [Atari Ace]


Reverted to old behavior where even with -switchres disabled,

MAME will use exclusive mode when rendering with Direct3D. This

means some of the switching to/from fullscreen mode problems will

come back, but should prevent confusion over poor performance by

default. [Aaron Giles]


Made it a non-fatal error if we are unable to change a joystick to

absolute mode in the Windows input code. Some drivers apparently

freak out about this. [Aaron Giles]


Defined a couple more inline functions: div_64x32_rem and the

unsigned equivalent divu_64x32_rem. Added inline implementations

for GCC x86 and MSVC. [Aaron Giles, Vas Crabb]


Cleaned up timer interfaces. Created new module attotime which manages

a new structure type attotime, equivalent to the old mame_time. All

time math functions are now implemented in attotime and have been

removed from timer.h. The following search/replace over the code has

been made:

mame_time -> attotime
subseconds_t -> attoseconds_t
time_zero -> attotime_zero
time_never -> attotime_never
make_mame_make -> attotime_make
mame_time_to_subseconds-> attotime_to_attoseconds
mame_time_to_double -> attotime_to_double
double_to_mame_time -> double_to_attotime
add_mame_times -> attotime_add
add_subseconds_to_mame_time -> attotime_add_subseconds
sub_mame_times -> attotime_sub
sub_subseconds_from_mame_time -> attotime_sub_subseconds
scale_up_mame_time -> attotime_mul
scale_down_mame_time -> attotime_div
compare_mame_times -> attotime_compare

SUBSECONDS_TO_DOUBLE -> ATTOSECONDS_TO_DOUBLE
DOUBLE_TO_SUBSECONDS -> DOUBLE_TO_ATTOSECONDS
USEC_TO_SUBSECONDS -> ATTOSECONDS_IN_USEC
SUBSECONDS_TO_HZ -> ATTOSECONDS_TO_HZ
HZ_TO_SUBSECONDS -> HZ_TO_ATTOSECONDS
MAME_TIME_IN_HZ -> ATTOTIME_IN_HZ
MAME_TIME_IN_SEC -> ATTOTIME_IN_SEC
MAME_TIME_IN_MSEC -> ATTOTIME_IN_MSEC
MAME_TIME_IN_USEC -> ATTOTIME_IN_USEC
MAME_TIME_IN_NSEC -> ATTOTIME_IN_NSEC
MAME_TIME_TO_CYCLES -> ATTOTIME_TO_CYCLES
MAME_TIME_IN_CYCLES -> ATTOTIME_IN_CYCLES

In addition, all the mame_timer_* functions have been renamed back to

their original names timer_*, so it is timer_set() instead of

mame_timer_set() once again. The mame_timer object itself has been

renamed to emu_timer.


New games added or promoted from NOT_WORKING status

Best Of Best [Luca Elia]


New clones added

Cluedo (prod. 2) [James Wallace]



Site officiel:

link mamedev.org/ ...
ClrMamePro v3.107
Clrmamepro fait sa release:



misc: changed WindowToFront method which doesn't falsely stick the window as topmost sometimes
* misc: showing warning about crc32= 1/-1
* misc: removed a typo in dir2dat tooltip
* misc: added a n64 header xml description (thanks Cue)
* misc: www profiler xml creator allows optional subfolder scanning
* misc: Linux WINE/Mac Crossover users: adding a cmpro.ini setting "Adv_HideWindow = off" helps you when you got issues with the showing/hiding of the 6 button bar



Petite info pour les utilisateurs de Vista:



Vista user note:

If you install cmpro to a protected folder like C:program files, you have to set the compatibility properties of cmpro.exe to 'run this program as administrator' to work correctly or you have to disable UAC. In other folders it should work fine without setting this property and without the need of disabling UAC.



Site officiel et téléchargements:

link clrmame.com/download.htm ...


Quelques additions
METAL CLASH (Japan)

Fighter / Misc. - 1985 - MAME 0.68 -
Un jeu de combat genre beat-em-all aérien entre robots, tout un programme !
N.Y. CAPTOR

Shooter / Gun - 1985 - MAME 0.115 -
Un shooter - gun, le premier du genre pour la maison TAITO.
POP FLAMER (protected)

Maze / Shooter Small - 1982 - MAME 0.57 -
Un maze à l'ancienne dans lequel vous serez une souris (ou ressemblant) qui doit faire péter des ballons de baudruche...
SCION

Shooter / Flying Vertical - 1984 - MAME 0.95 -
Shooter vertical au manettes d'un vaisseau capable d'envoyer des bombes au sol une fois le power récupéré... Il faudra détruire des points stratégiques sur le tableau pour passer au suivant...


Bon jeu